About Us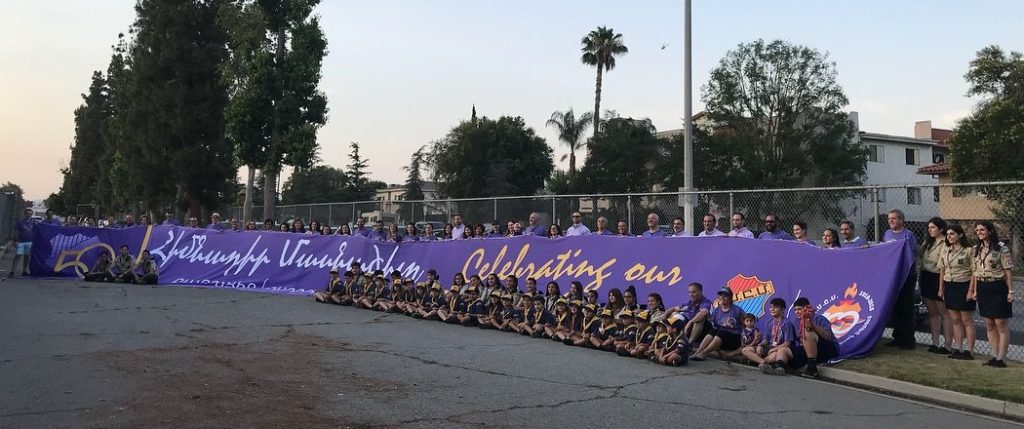 The Armenian General Athletic Union and Scouts, referred to as Homenetmen, is a non-profit organization founded in 1918. As a strong believer in the 'strong mind in a strong body' concept, Homenetmen provides the Armenian American Youth with moral, physical and social education. In addition, it exposes the youth to the wealth of the Armenian culture and heritage, as well as prepares outstanding law abiding Armenian American citizens. Homenetmen is a worldwide organization with roughly 100 chapters and 30,000 members on five continents.

In the United States, the first Homenetmen Olympic Games took place in Brooklyn, New York in 1922. Shortly thereafter, new chapters were established in New Jersey, Philadelphia, and Boston. From that point on, Homenetmen USA began to grow founding chapters throughout the United States. The first chapter in Western USA was established in Los Angeles in 1968. From that point on, Homenetmen Western USA has thrived, with 18 current chapters and over 8,000 members in 4 states.

The Homenetmen experience is one of lasting association. The organization promotes a sense of fraternity and humanitarianism, which extends far beyond mere camaraderie and benevolence. Homenetmen's motto "Elevate Yourself and Others With You", is a poignant reminder of its fundamental objective – striving for individual and collective excellence of its members. To achieve these goals, Homenetmen employs both a scouting and athletic program.
Homenetmen's scouting program is affiliated with the Boys Scouts of America. For its more than 3,000 scouts, Homenetmen Western USA provides the opportunity in each and every scout a sense of social and moral responsibility. Members are instilled with the characteristic virtues of discipline, teamwork, sacrifice, patriotism, and leadership. The scouting program features weekly team-building, physical, and educational activites, as well as field trips to local attractions and outdoor scouting expeditions. Each summer there is an annual camping trip where scouts spend a week with their troop in nature, developing a sense of independence and self-reliance, as well as having fun and learning new things with their friends. Moreover, there are opportunities to participate in Scouting Jamborees, including one that takes place in Armenia every four years.
The athletic division of Homenetmen in the Western USA Region has a membership of 6,000 young Armenian Americans. It sponsors local league competitions as well as major regional athletic programs and activities. There are weekly practices in state-of-the-art facilities for various sports, including basketball, soccer, volleyball, and table tennis among others. Our athletes compete in various competitions throughout the year, including in San Diego, Fresno, San Francisco, Orange County, and Los Angeles. The KAHAM (Inter-School) Games, held annually since 1982, bring together students throughout the Southland in basketball, volleyball, soccer, and track and field competition.
In 1975, the first annual Navasartian Games were held at East Los Angeles College before only a few hundred spectators. As it steps into its fifth decade of existence, the Navasartian Games have grown into the community's most attractive event, drawing over 300 teams, 6,000 athletes, and 20,000 spectators. The athletic competition is held over an eight-week period starting in May. The Games culminate on the Fourth of July Weekend with a festival and closing ceremonies. Over fifty businesses and organizations participate in the festival with food and game booths.
Since its establishment in 1918, Homenetmen has played a fundamental role in helping to shape the character and leadership capabilities of generations of Armenian American youths. Through its scouting and athletic programs, Homenetmen has preserved the Armenian spirit and addressed the needs of Armenian American communities through the Western United Sates. Its success has been made possible because of the generous moral and financial contributions of dedicated parents, concerned citizens and many charitable organizations throughout the world, which believe in the organization's mission and have supported its many accomplishments. Today, Homenetmen continues to grow at an unprecedented rate, and for this reason, there is a need to develop more abundant resources. The ever-increasing challenges of contemporary society indicate that, now more than ever, each and every one of us must share Homenetmen's commitment to excellence.